K 1600 GTL
€XX,XXX*
XXX € per month with 3asy Ride
* XXXXX Equipment according to series standard, non-binding price recommendation ex works without any transfer costs incl. XX% VAT.

All motorcycles are supplied only with equipment required by law (e.g. reflectors as per Euro 4 standard). Illustrations on this website may differ from this.
All motorcycles are supplied only with equipment required by law (e.g. reflectors as per Euro 4 standard). Illustrations on this website may differ from this.
The BMW K 1600 GTL.
Luxury travel. First-class arrival.
Ride on. And on and on. Glide into the horizon in style and elegance on this luxurious high-performance touring motorcycle. The new BMW K 1600 GTL motorcycle is the pinnacle of high quality and sheer comfort, boasting the legendary straight-six engine. Now standard equipped with the latest generation of Dynamic ESA and ABS Pro. Make your elegant entrance with the newly redesigned panels. Stay calm and collected in any weather condition and at any distance. On your own or with a partner: enjoy superior control and effortless steering in all your comings and goings. Travelling with the K 1600 GTL takes you to a new dimension – stylish, powerful, luxurious – a first class experience awaits you.
The design of the K 1600 GTL
Choose your style.
With a total of four different colour versions, you can give your K 1600 GTL an even more individual design.
The K 1600 GTL design has received a first-class upgrade. The newly designed side panels, radiator grilles, tank trim and storage compartment help you make an even more elegant entrance. Enhancing details like the footrest has helped put the final touches on its exquisite look. Distinctive elements such as Duolever front wheel suspension, the highly visible straight-six engine, the innovative Xenon headlight and the chassis remain pioneers of style. Together with the redesigned front section, including mirror and windscreen, a uniquely elegant and dynamic sculpted alignment has been achieved.
This luxurious, comprehensive package does not only boast a first-class design, it is also an enticingly engaging ride for the roads ahead.
+ Read more
6-cylinder in-line engine
175
Nm max. torque at 5,250 rpm
117
litres of storage space
Oil-/watercooled, four-stroke in-line six-cylinder engine
Superior 6-cylinder engine.
Superior 6-cylinder engine.
A first-class engine: the legendary straight-six engine offers an unparalleled smooth ride and the most outstanding riding performance in the luxury tour sector. Its 118 kW (160 PS) output and maximum torque of 175 Nm at 5250 rpm supplies the perfect dynamic thrust forward. And 70% of the torque is already achieved at 1500 rpm.
+ Read more
Experience the sound of the K 1600 GTL
Striking headlamps with Adaptive Headlight.
Pioneering: 6-cylinder in-line engine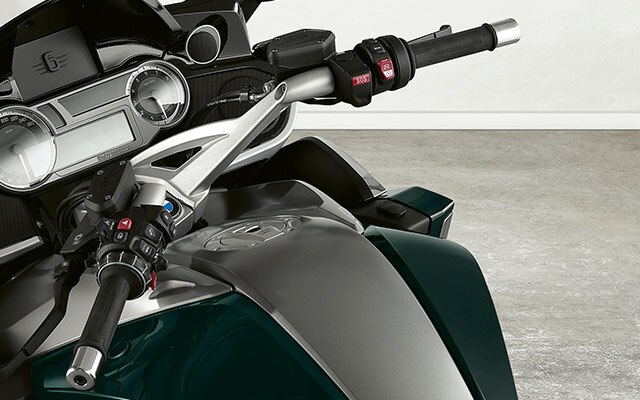 Second storage compartment as standard.
Electrically adjustable windshield
High-quality chrome parts.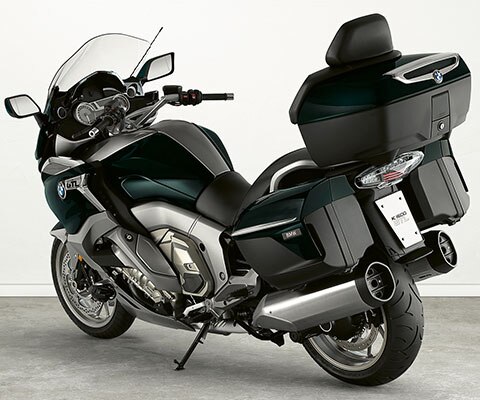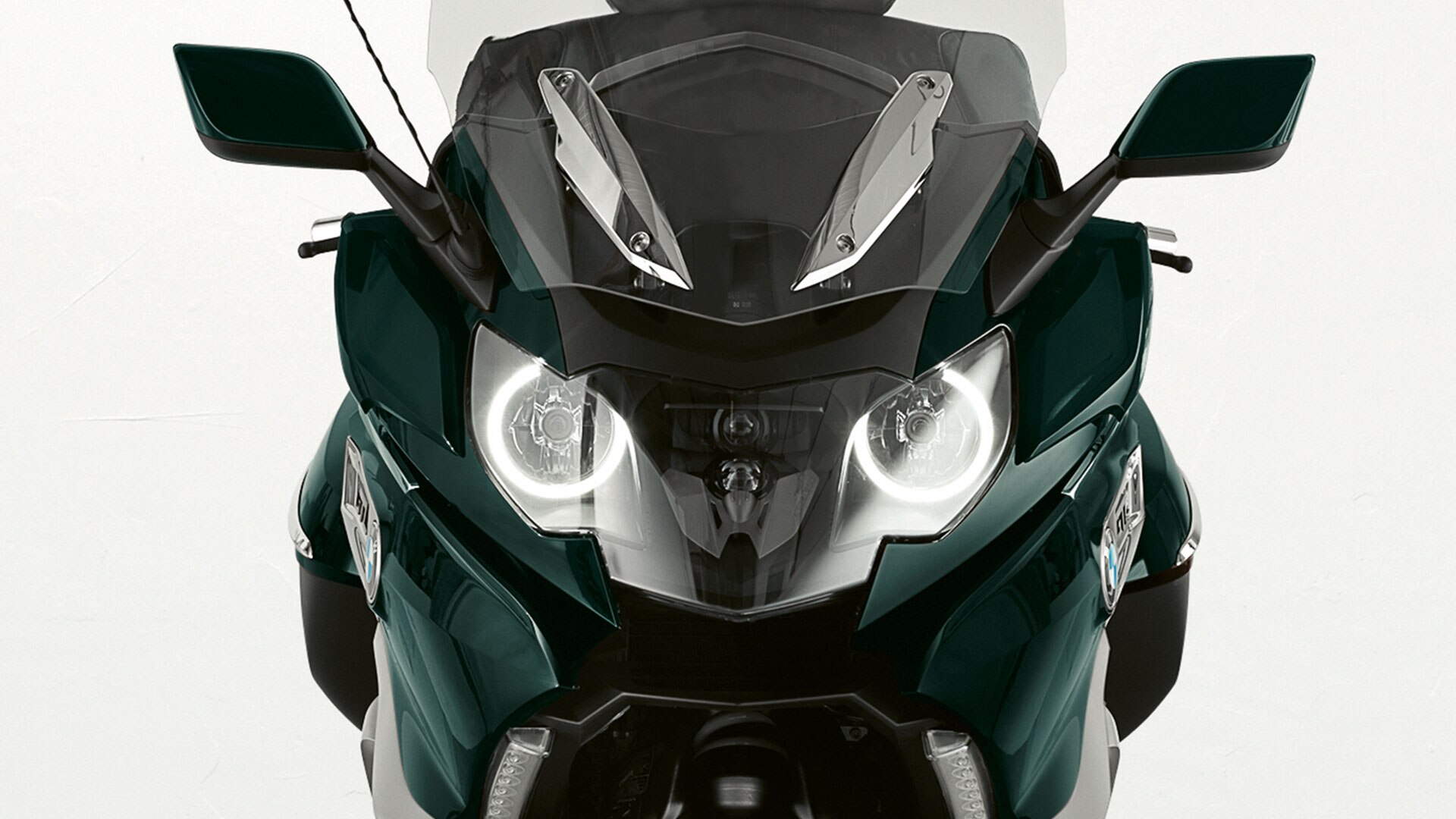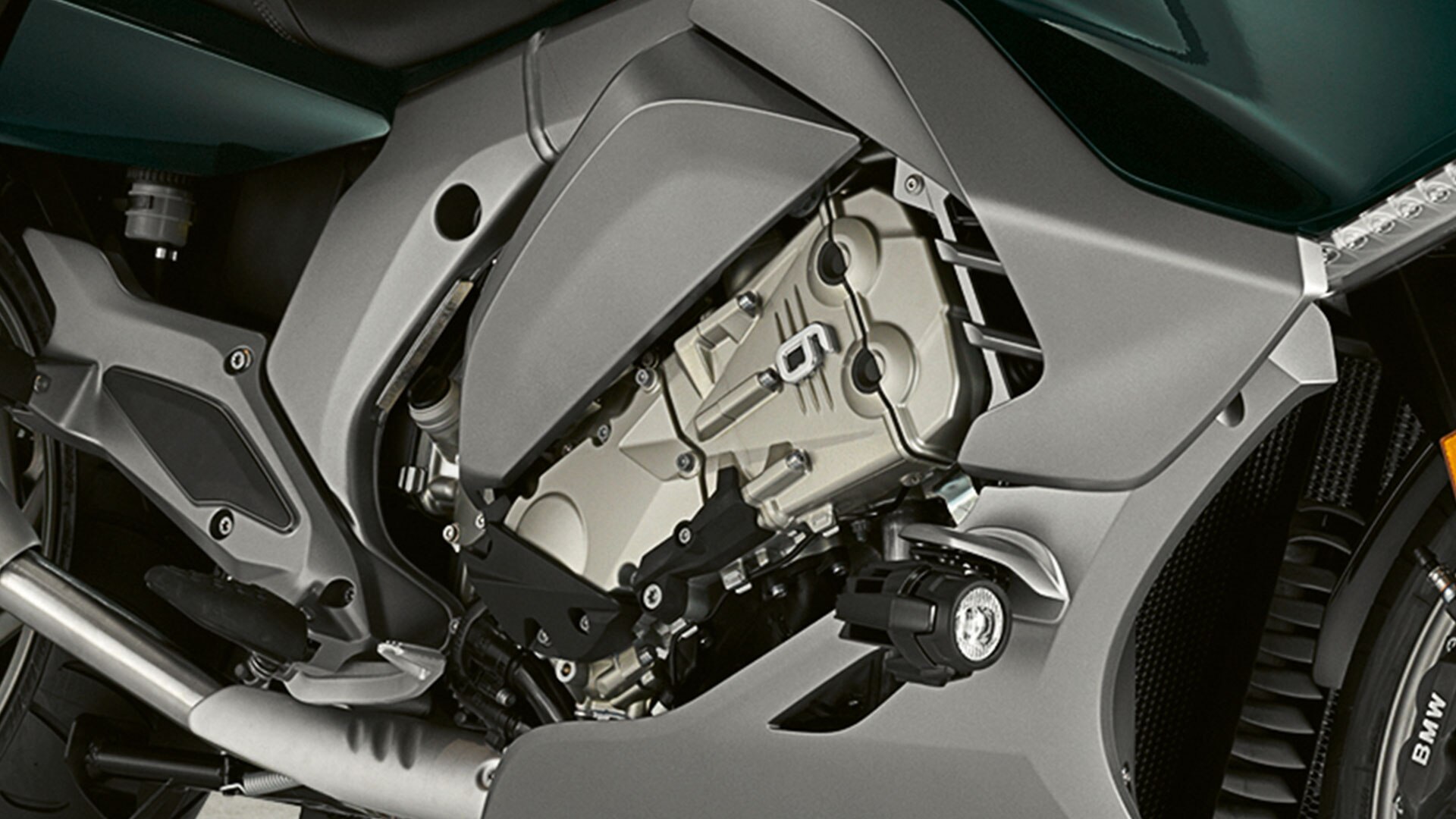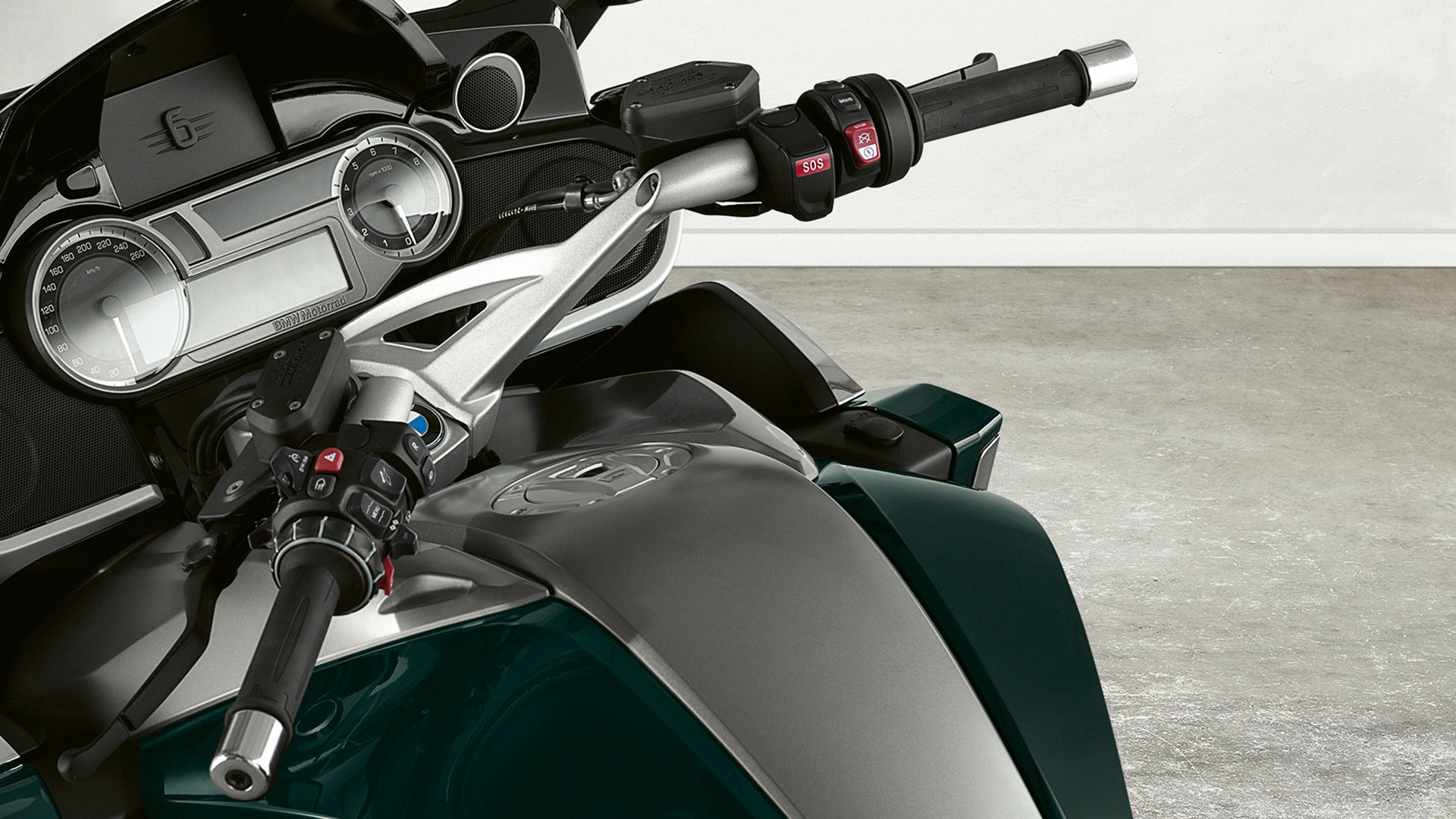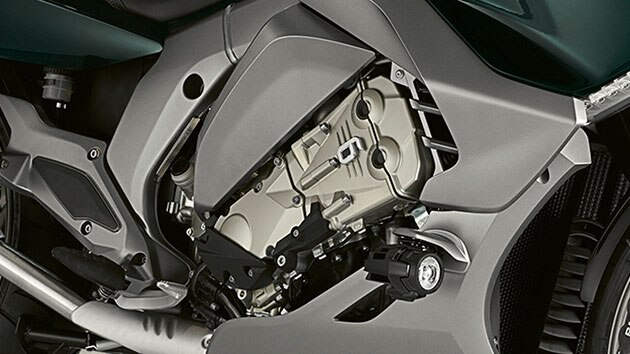 A new dimension.
A new dimension.
The standard equipped Dynamic ESA adds a new dimension to your riding experience. Within milliseconds, the highly-sensitive sensor box detects riding conditions and regulates the damper in the suspension. This guarantees the ideal damper settings in any riding situation. Even at an incline, levels of damping comfort that were previously unimaginable have now been achieved, resulting in an extremely steady ride.
+ Read more
Just climb on and relax.
Just climb on and relax.
The K 1600 GTL also offers unprecedented comfort. Its enticing features include an enormous amount of space and excellent accessibility. Carefully thought-out and easily accessible storage space solutions focus on the comfort of the rider, making the K 1600 GTL an uncompromising choice in touring quality. Riding with a partner on a long journey is a true pleasure thanks to a variety of detailed solutions such as central locking, seat heating, an electrically adjustable windscreen and a range of seat heights.
Various riding modes and dynamic traction control ensure increased comfort. Added to this is the Multi Controller: an essential operating concept which allows riders to navigate through the on-board menu conveniently, without removing their hands from the handlebars or their eyes from the road. Nothing can stop you on your relaxed ride on the K 1600 GTL toward new horizons. The bike with never-ending features – a series of luxurious equipment.
+ Read more
Dynamic ESA: unevenness ironed flat.
For the best road contact.
The standard Dynamic ESA once again significantly increases the first-class riding comfort of the K 1600 GTL. It ensures the best traction, safety and the highest level of comfort: dynamic ESA controls the suspension depending on the driving condition and riding manoeuvres by automatically adjusting to the detected conditions. In doing so, it ensures significantly improved contact between road and tyre, even when in a lean. Enabling riding characteristics which are always stable and an added boost in comfort and safety – especially on those long tours.

The standard setting "Road" – takes you comfortably over all unevenness. With the "dynamic" setting, a generally firmer damping action is selected: for sporty dynamic riding.
Reverse assistant: effortlessly manoeuvring and getting out of parking spaces.
Simply reverse. Steep paths and narrow space conditions at popular look-out points or parking spots are no issue with the convenient torque control assist (TCA). Leaving you with only a smile for parking and manoeuvring. Activate the reverse assist by putting the bike into neutral and activating the assist function using the button on the left handlebar. As soon as the R is shown on the display and started by pressing it, you can glide out of your parking space with ease and get going on to your next destination with ample momentum.
Xenon headlight: puts everything into the right light.
More light. More safety.
The standard xenon headlights are double as bright and consume 30% less power than conventional halogen headlamps. They ensure consistent illumination of the road surface - particularly at night and with poor visibility. At the same time, they make you easier to be seen as well. A cylindrical bulb shield on the reflector prevents the light bulb from dazzling other road users.

The light follows the wheel. Adaptive Headlight.
The adaptive headlight, which is available as an optional accessory, optimally illuminates the road when negotiating bends. A servo motor in the main headlight compensates for the motorcycle's banking angle when cornering, orienting the light at the optimum angle for the road. For the rider, this represents an enormous increase in active driving safety, particularly when taking corners at night.
Cases & storage compartments: more space for your luggage.
Mount and enjoy in a relaxed manner.
Whether you are touring or simply going for your daily ride, the installed cases and storage compartments on the K 1600 GTL provide sufficient space for everything you need to store. From the day-to-day essentials, equipment and clothing, and even holiday mementos.

The optional topcase impresses with its convenient interior and the interior lighting fitted as standard. Your passenger will love the small comfortable backrest. The standard colours of the motorcycle are perfectly integrated into the elegant appearance of the K 1600 GTL. The optional storage compartment for the topcase lid provides space for all travel essentials, documents and paperwork.

The liners give you even more space and order for your touring case. With the carry handle and the – also removable – shoulder strap, it is the ideal companion for a cruise through town.


Keyless ride and central locking.
Extraordinary features for increased comfort.
Keyless ride and central locking make your life easier and quickly become companions you won't want to do without.

Thanks to Keyless Ride, the mechanical key becomes superfluous so you no longer have to spend time inconveniently looking for it before you set off. It is sufficient simply to carry your key in your jacket pocket in order to unlock and start up your motorcycle.

The central locking ensures that the contents of the storage compartments and additional cases are protected from thieving fingers when you lock your bike – all this simply by pressing a button on the handlebars. Enabling you to set out on an excursion after dismounting even faster.
Clutchless shifting thanks to pro shift assistant.
Shift like in racing.
This is luxury – above all a plus for easy handling: the shift assistant Pro was originally developed for racing sport. Adapted for the touring sector, it allows you to shift gears without using the clutch in almost any load or rev range. During acceleration, the throttle grip remains open and ensures swift and relaxed shifting. When downshifting with closed throttle grip, the system automatically provides double-declutching and uses this to downshift perfectly.

This ensures that your clutch hand is relieved and remains relaxed even after long tours. In addition, shift time is reduced as compared to a gearshift using the clutch: for even more dynamics and comfort.
"Intelligent emergency call": the quick response in case of an accident and in emergency situations thanks to the ECALL system from BMW Motorrad.
The good feeling is always along for the ride. BMW Motorrad is the first manufacturer to provide the "intelligent emergency call" ex works: a system fitted firmly on the handlebar, which in case of emergency can independently and automatically trigger the rescue chain and in so doing facilitate faster aid from the emergency services. The "intelligent emergency call" automatically becomes active following a light to heavy accident. But the rider can also manually trigger an emergency call at the push of a button, if for instance he/she has observed an accident. After activating the system, either automatically or manually, the GPS data of the location and the direction of travel of the motorcycle is sent via mobile phone connection to a BMW call centre. From here, the rescue chain is activated. For fast, precise help. And a great feeling on every tour.
The view from behind the scenes
Crafting a feeling.
The BMW Motorrad design process.
Striking characters work in the BMW Motorrad design team. Every designer has their own style and feels at home in their own biker scene. And each and every one of them adds their own inspiration and passion. These different forms are then combined in the design process: they are manifested in each new BMW Motorrad creation. Edgar Heinrich, head designer at BMW Motorrad, introduces the BMW Motorrad design team and the design process.
Read more